You will find more in Woods than in books.
The trees and rocks will teach you things that no master won't tell you.
Saint Bernard de Clairvaux
It was 30 million years ago that rock limestone "asteries" were formed by the earth.
The rock that was mined in all of the Gironde areas equally the geological bedrock of the greatest terroirs ((basis of the majority of classified growths and first classified growths) ) of Saint Emilion. It is the "Astéries" rock limestone from the stampian floor of inferior Oligocene, a geological period of the middle of the tertiary period. This limestone derives its name from the innumerable "Asteria" fossils, organisms that had descended from starfish, and hence the star on our wine labels.
This limestone of "asteries" is also found, among other areas, in the Médoc area in St Julien and as well as in Sauternes in Barsac..
France possesses approximately 70% % the world's limestone-planted vineyards which explain the great diversity and excellence of the great wines of France.
The Asteries rock limestone is predominant at Puy Arnaud (100% % of our parcels are on the commune of Belvès). which bring much finesse,, freshness and minerals to the grapes and produces a bouquet, worthy of the "grand terroirs" (floral, spice,and truffles), to integrate little by little for the 10 first 10 years in the bottle.
The parcels situated in St Genes de Castillon are partly on a mixture of Asteries rock limestone / Castillon limestone and partly on tuff or tuff scree's. The latter terroirs give off a stronger tannic structure with an aromatic expression of red and soft black fruit.
85% % of the surface area is on limestone plateaus , 15% % on hillsides or on the base of hillsides.
The soils of the plateaus are meager, between the outcrop of rocks in certain areas and a maximum depth of 50 cm.
The exposures are interesting with a maximum duration of sunlight from sunrise to sunset..
majority of parcels receive the sunrise rays that, according to recent studies, bring a quality of light favourable to the vines (particularly in this period of climate change).There is also good ventilation on these plateaus situated between 90 and 100 meters.
The conditions of the "Terroir" are, therefore, very interesting but they require agricultural work with strict respect to the balance of the biotope to truly show their best results since it is the altered rock and in combination with organic matter that makes up a terroir, it is never the rock alone.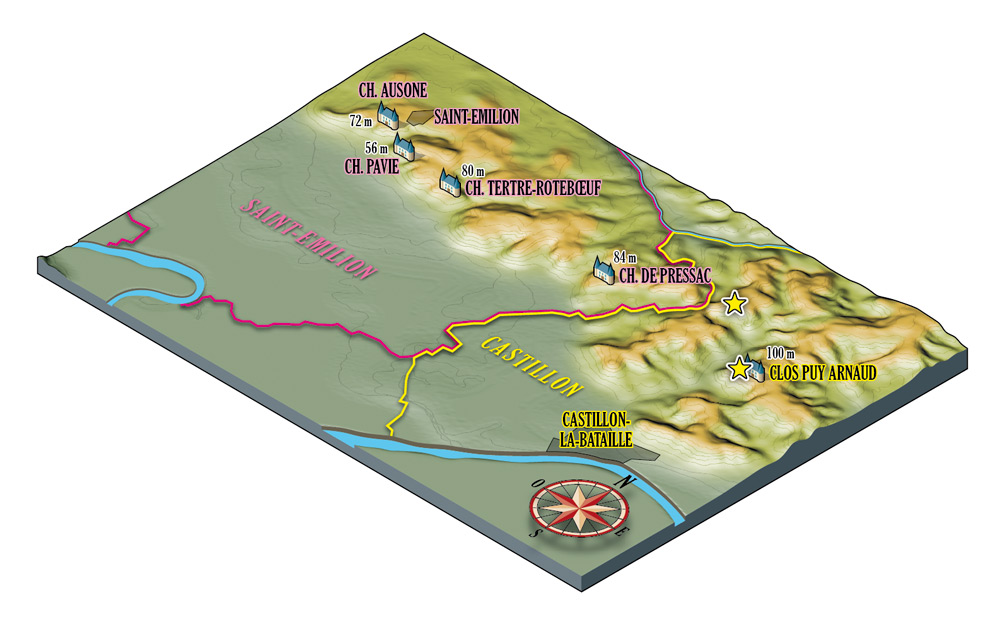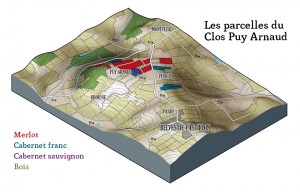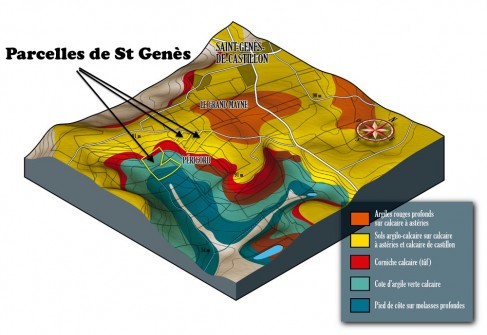 Click to enlarge the map